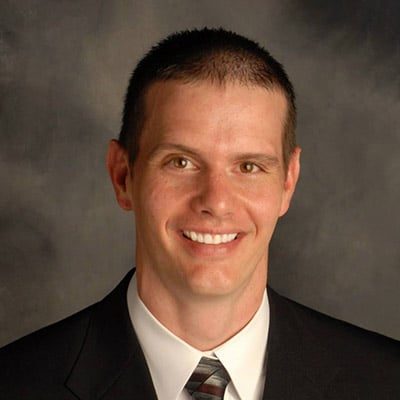 Chiropractor Mark Atnip D.C.
Dr. Mark Atnip is a licensed Chiropractor serving the Paducah community.
Dr. Atnip has been freeing people from pain at the office in Paducah, KY. As a Chiropractor with experience, he is committed to promoting the health and well being of his patients.
Dr. Atnip at McCracken County Chiropractic uses a 'whole person approach'. This approach to wellness means looking for underlying causes of any disturbance or disruption (which may or may not be causing symptoms at the time) and makes whatever interventions and lifestyle adjustments that would optimize the conditions for normal function. Using this unique approach, Dr. Atnip is able to help you accelerate and/or maintain your journey to good health.
Where do I begin? My whole life summarized into one paragraph. Never give up. Never back down. Stand for something. Help those you can. Love everyone. Seek to understand. Be strong, but stay humble. Never stop learning. Never stop doing. Every moment counts. See the good in all things. Sing. Cry. Laugh. Talk. Listen. Shout. Grow to be an adult. Have children to learn to be a kid again. Never settle for good when you can be great. One word changes a person's life. One action changes generations. You can learn from anyone. Stay hungry. Embrace change. Have hope. And lastly, dream!
I started McCracken County Chiropractic in April of 2001. I have tried to write this biography about myself for several weeks. It is hard to find the right words. After weeks of thinking, one thing continually comes to mind......Passion. I try to be passionate and find passion in everything.
I am very passionate about our business. Seeing patients regain their lives is beyond words. Watching them take control of their health is extraordinary. When most patients come, they have no understanding of their own bodies and health conditions. They just know they hurt and can't do the things they want and love to do. They have lost a part of their lives. Helping them understand what is happening to their bodies and regain their health....that is my mission. Changing lives....that is my passion.
Kimmie Wallace - Front Desk
Rochelle Stubblefield - Therapy
Shawna Gregory - X-ray Technician
Andrea Atnip - Insurance/Records
OFFICE HOURS
---
Monday
9:00am - 12:00pm
2:00pm - 6:00pm
---
Tuesday
9:00am - 11:00am
2:00pm - 6:00pm
---
Wednesday
9:00am - 12:00pm
2:00pm - 6:00pm
---
Thursday
9:00am - 12:00pm
2:00pm - 6:00pm
---
Friday
Closed
---
Saturday
Closed